A 61-Year-Old Grandmother Gave Birth To Her Own Granddaughter—And The Photos Are Amazing
Last Monday, 61-year-old Cecile Reynek Eledge gave birth to her very own granddaughter for her son and son-in-law.
Reynek Eledge served as the surrogate for the newborn, who was conceived via IVF.
Despite her age, doctors said there was "absolutely no reason [Reynek Eledge] can't go full term."
On March 25, 61-year-old Cecile Reynek Eledge gave birth to her very own granddaughter, who was originally conceived via in vitro fertilization (IVF) using her father's sperm and her aunt's eggs.
Ready, set, bring on all of the feels…
When Eledge's son, Matthew, and his husband, Elliot Dougherty, decided they were ready to grow their family, Reynek Eledge, without any hesitation (talk about selfless!), volunteered to be the surrogate, telling WQAD8 that "It was natural instinct."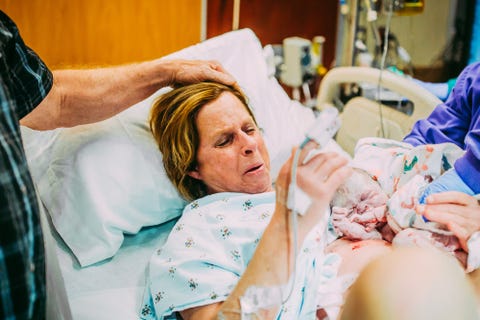 ARIEL PANOWICZ VIA FACEBOOK
But before anything could be said and done there was just one little thing that had to be taken into consideration: her age.
So, Reynek Eledge underwent a series of tests before getting the okay from doctors that because of her great level of physical health (!!) she was a totally acceptable candidate to serve as a gestational surrogate.
A bit wow-ed? So was Reynek Eledge, who told USA Today that she kept expecting the doctors to say that she wasn't a fit: "But the doctors said there is absolutely no reason you can't go full term. 'Everything is in our favor,' they said."
From there, the process took off and, tbh, became even more of a family affair thanks to Dougherty's 26-year-old sister, Lea Yribe, who donated her eggs. Together with Eledge's sperm and via IVF, the couple was able to conceive their baby girl, Uma Louise, who was then carried by her grandma.
I repeat: family. affair.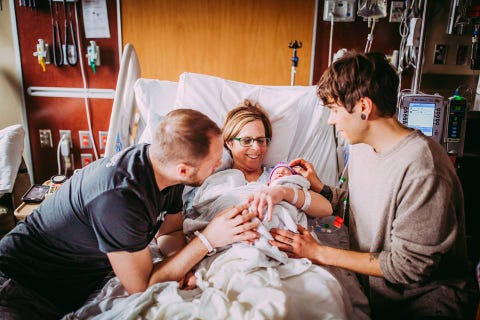 Ariel Panowicz via Facebook
And the two men know this to be true—sharing how much they appreciate the ladies' help with the world (yes, boys, yes!). In an interview with CNN, Eledge said, "More than anything, we feel lucky to have women selfless enough to do this." And about two weeks before last Monday's delivery, Doughtery posted a series of photos featuring the team of four on Facebook, saying, "What an honor it is to have these two women in our life. What a beautiful gift this has all been."
Throughout the entire pregnancy, Reynek Eledge frequently saw a team of medical professionals, most of which whom are high-risk specialists, and "followed things to the letter," because, as she told USA Today, "I would have felt terrible if anything had happened."
The only thing that did happen? A positively complication-free delivery of her 5-pound, 13-ounce granddaughter last Monday surrounded by an entire team of docs, her husband, son, and son-in-law, among others.
Both Reynek Eledge and little Uma are doing well…and proving that it really does take a village. 👏🏻
Source: Read Full Article