Burger King Just Announced A New Vegan Whopper And It Sounds AMAZING
Burger King announced it is testing a new meatless, vegan version of its famous Whopper in 59 U.S. stores.
The vegan patty will be made by Impossible Foods, creator of the famous Impossible Burger.
Impossible Burgers are known for their meat-like texture and taste.
Calling all burger kings (and queens!): Burger King is officially rolling out a vegan-friendly burger to their regular menu.
Starting with 59 store locations in the St. Louis, MO, area, the chain's debuting a plant-based version of their signature Whopper—sans the beef—using the cult-favorite Impossible Burger meatless patty, according to a report in Forbes. Pending the success of the newest menu item, they'll bring it nationwide to 7,000+ locations.
Impossible Foods, the makers of the burger, debuted their first eerily-similar-to-meat patty (it even "bleeds") in 2016, and the meatless patty is also available at other restaurants including White Castle, Bareburger, and Applebee's.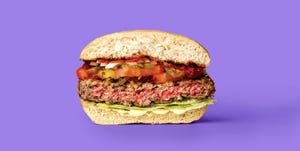 Impossible says on their website that they created their burger with an "impossible" goal in mind: to replicate everything meat eaters love about a traditional patty—from the smell and sizzle to its nutrition. The brand recently debuted a new 2.0 recipe, which will be showcased at BK, swapping wheat protein for soy, mixed with some potato protein, coconut, and sunflower oil (among other things).
The updated recipe has less calories, fat, and protein than the OG Impossible Burger, just FYI. Here's the nutritional value of one Impossible Burger patty:
240 calories
14 g fat (8 g saturated)
370 mg sodium
9 g carbohydrates
3 g fiber
Less than 1 g sugar
Made to order, the BK burger comes topped with lettuce, tomatoes, ketchup, mayonnaise, sliced onions, and pickles on a toasted sesame-seed bun. Customers can channel their inner Beyonce (read: go completely vegan) by skipping out on the mayo.
But is it as good as its meatier Whopper brother? Selling for only about a dollar more, it's definitely worth the try.
Source: Read Full Article