Chris Hemsworth's Centr App Gives You His Wellness Secrets
Chris Hemsworth wants you to join his team.
Not literally—that would mean you'd have to uproot your life and decamp to his home in Byron Bay, Australia. Instead, the actor and current Men's Health cover man spent the last two years developing his own app, Centr, which promises to give you access to the same group of health and wellness experts he works with to maintain one of the most impressive physiques and public personas in Hollywood.
Hemsworth created the app to share the unique knowledge he's amassed over the years spent optimizing his mind and body to play roles like Thor in the ultra-successful Marvel films. The actor worked with his wife, Elsa Pataky, and picked out a team of high-profile experts to build up Centr's content offerings.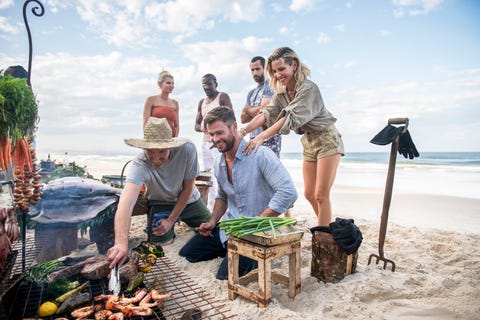 Hemsworth, Pataky, and members of the Centr team.

Funnell
"The whole thing [developing Centr] was about not becoming stagnant," Hemsworth told Men's Health. "That's when your emotional and physical problems occur, I think. I wanted to create some-thing that embodied the three main elements of healthy living—the movement, the nutrition, and the mindfulness—and present it in a way that's entertaining, functional, and also accessible."
The app—which will cost $20 for a month or $120 for a year when it drops next month—will be filled with weekly workouts, recipes, and guided meditation sessions from renowned experts in each field. The team behind Centr includes Hemsworth and Pataky, along with trainers Luke Zocchi, Bobby Holland Hanton, Tiffiny Hall, Gunnar Peterson, and Jorge Blanco; chefs Darren Robertson, Dan Churchill, and Palisa Anderson; and wellness experts Dr. Andy Walsh, Alexis Naim, and Fabrice Midal (you can find a more complete list of the Centr team here).
Want to see how Hemsworth trains? Zocchi and Holland Hanton demonstrated one of Hemsworth's Men in Black: International training routines for us for the video below.
Centr also promises to provide users a customizable experience, 24/7 community support, and "exclusive behind-the-scenes extras," presumably from Hemsworth and the team as they create the app's programming.
The app will be released widely this February on iOS and through an online portal, but you can sign up now to become a "Founding Member," which will give you a lifetime 20 percent discount on the service.
Source: Read Full Article