How This Skinny 20-Year-Old Put on 15 Pounds of Muscle and Kept Off Fat
At a time when most guys were resolving to undo the caloric mayhem of the holidays, Jenner Simmonds looked down at the scale and wished it would climb higher. The 20-year-old college student had an ambitious goal in mind: Pack 20 pounds of muscle onto his 5'11, 138-pound frame, in just eight weeks. But he needed a plan.
"Being the skinny kid in my friend group made me self-conscious—especially when going to the gym," he says. "I've tried gainer protein powder, but that leaves me feeling bloated. Meal prep had been difficult, and the food I'd eat to gain wasn't healthy. I'd eat junk food and skip meals because I'd feel guilty."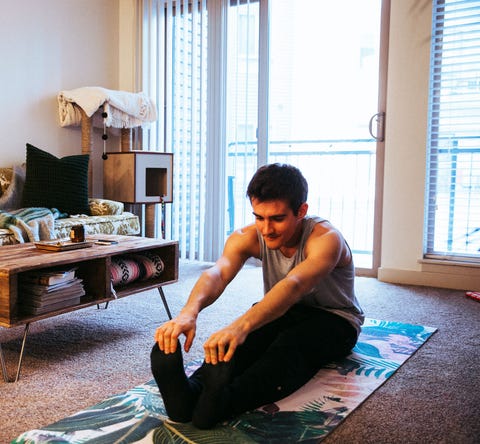 Nick Onken
Simmonds is a classic hard gainer—a skinny guy who needs to put in a lot of extra effort to gain strength. His part-time waitering job in a Salt Lake City hotel only adds to his obstacles—for one thing, being on his feet all day burns plenty of precious calories. That's one reason why, after meeting with a trainer about his goals, Simmonds had his daily calorie target raised by nearly 1600 calories—from 2006 to 3600, with a heavy focus on lean protein and healthy carbs.
"I was vegetarian for a while, so it was difficult to adapt to the new diet," he says. "But I've learned I can get healthy foods and the right kinds of meat—like salmon and chicken—and protein in ethical ways, which has been really helpful," he says. The result was dramatic: In the first month alone, Simmonds gained nine pounds. After three months, he'd gained nearly 12 pounds, without adding any fat. His coworkers were among the first to notice.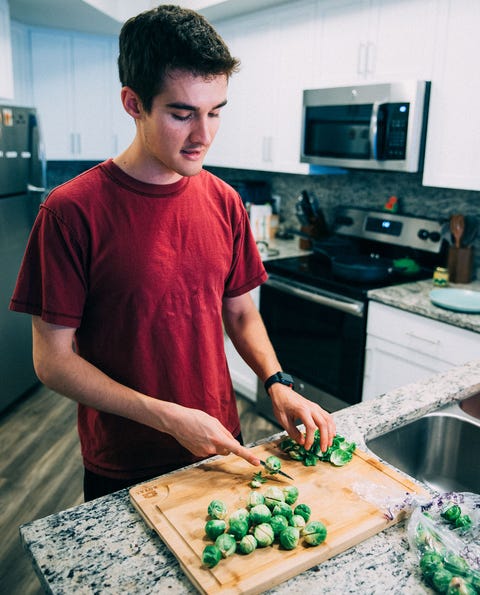 Nick Onken
"My boss asked why I had such an appetite," Simmonds says. "He noticed that I was able to carry more food trays to the rooms at the hotel, and that I was a lot less tired later in the day." In his downtime with his friends, Simmonds even felt himself growing more competitive on the basketball court—playing longer, recovering faster.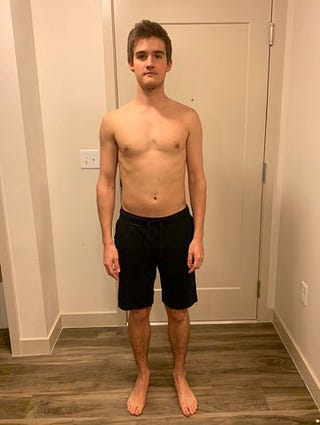 Courtesy
"He's the strongest he's ever been," says Jaxon Knighton, a trainer and performance specialist with Life Time South Jordan, who worked with Simmonds to make his transformation happen. Knighton put Simmonds on a strict routine of unilateral training and bodyweight movements, as well as compound movements like squats, deadlifts, and bench presses. In nine weeks, Jenner went from being able to do 0 bodyweight pullups to knocking out 10 in a row. Knighton is quick to note that Simmonds achieved his goals pushing himself too hard—a common mistake among men who are new to the gym.
"One of the most important things I taught Jenner," Knighton says, "is that you don't have to kill yourself every time you train. By working consistently with proper programming you can achieve good results and never worry about burning out."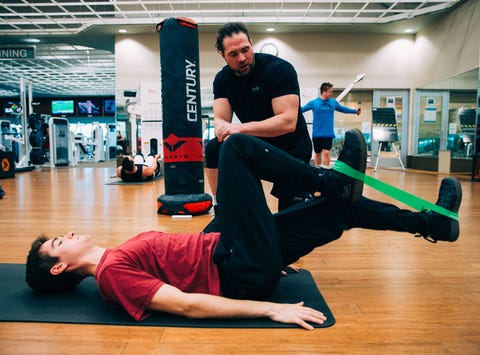 Nick Onken
For Simmonds, the benefits continue to impact every part of his life. "I feel better. I'm sleeping better. I have more strength, more energy, and am just in a better mood," he says. "I love seeing results, and I want to keep working towards them. I feel so much more confident already."
Want to kickstart your own scrawny-to-brawny transformation? Follow the advice of the same experts who helped Simmonds achieve serious gains:
Gain Strength in a Hurry
These three strategies were the most important to helping Simmonds pack on big-time strength in a matter of weeks, Knighton says.
Think Big
The secret to Simmonds's growth: Knighton pushed him through exercises that challenged his entire body, ditching isolation moves like biceps curls in favor of exercises that tax your whole body, like squats and deadlifts, and body-weight moves like pullups. "I wanted to build a foundation for him," Knighton says.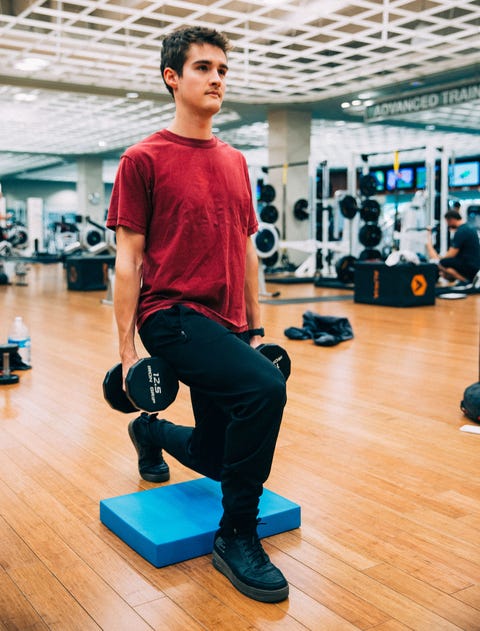 Nick Onken
Your Body Weight Is Your Best Weight
Simmonds did bench presses and barbell rows, but once a week he focused on body-weight movements like pushups and pullups. If you're just getting started, make these the backbone of your routine; they'll help you improve overall body awareness and ensure that you're keeping your core involved in your training.
Forget the Situps
Knighton had Simmonds train his core every day, focusing on moves that challenged his abs, lower back, and glutes to work in concert to keep his torso stable. That meant a heavy dose of planks, Pallof presses, and ab-wheel rollouts instead of situps and crunches.
Bulk Like the Best
These fundamentals will help you stay fueled properly when you need to eat more than most people, says nutritionist Matt Carlin, a registered dietician with Life Time fitness.
Give Those Jaw Muscles a Rest
Bulking up requires a lot of chewing. Simmonds ate about six meals a day, each consisting of 30 grams of protein. This is where protein shakes can help. Simmonds went with three meals of real food and then incorporated three liquid shakes to help cut down on all that mastication.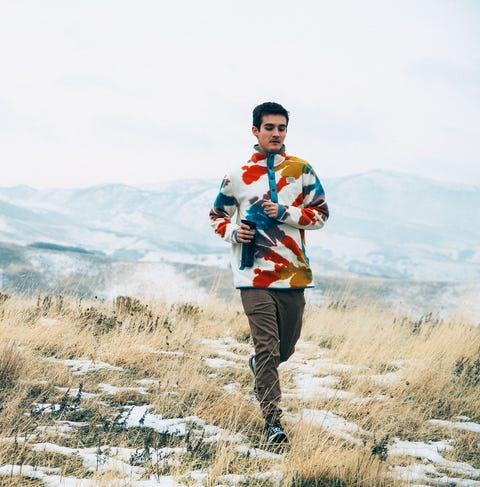 Nick Onken
Make the Diet Portable
Pick smart and pack smart when you're away from home. Simmonds hit some bumps early on when he went on a road trip. When you're out to eat, pony up the extra money for a bowl of berries at breakfast. And then leverage protein for snacks: beef jerky, low-sugar protein bars, nut-and-seed trail mixes.
Prep for Your Meal Prep
Bulking diets require structure to thrive. Try the schedule Carlin developed for Simmonds's busy schedule: Shop on Tuesday and meal- prep four meals for lunches and dinners that night. Then shop and meal-prep three more lunches and dinners on Saturday to get you back to Tuesday. It sounds like a lot of work, but once you set up a routine, it's easy. Fiddle until you find what works.
THE BEFORE
Weight: 138
Body Fat: 15%
Max Calories During the Program: 3,600
THE AFTER
Weight: 150
Body Fat: 15%
Calories During the Cutting Phase: 2,100
Jenner was able to pack on 12 pounds without adding any body fat through the program. Through his blood work he'd discovered he's intolerant or sensitive to gluten, lactose, peanuts, and eggs. So he adjusted his diet to eliminate inflammation and bloating so he now feels better.
Source: Read Full Article