J.Lo Just Posted An Incredible Picture Of Her Abs After Giving Up Sugar For 4 Days
Jennifer Lopez is only on the fourth day of her no-sugar, no-carb 10-day challenge, and damn, her abs are on fire.
J.Lo posted her abs selfie on Instagram: "Day 4 and feeling….. a lil better 🙂 Who's with me?" she wrote, along with the hashtags "10daychallenge" and "NoCarbsNoSugar." (Just FYI: J.Lo's boyfriend, Alex Rodriguez, is doing the challenge with her.)
View this post on Instagram
Day 4 & feeling….. a lil better 🙂 Who's with me? #10daychallenge #NoCarbsNoSugar
A post shared by Jennifer Lopez (@jlo) on
J.Lo, queen of literally everything, also posted an Instagram Story about her progress on the diet. She shared a photo of an "asian bowl" with avocado, shaved Brussels sprouts, sliced yellow peppers, cucumbers, cauliflower fried rice, and tuna poke.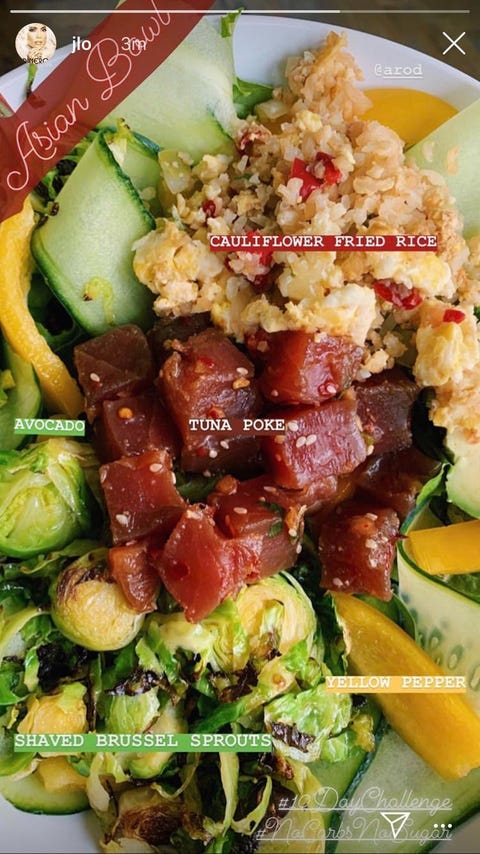 Jennifer Lopez/Instagram @jlo
Apparently, the challenge is getting easier for both J.Lo and A.Rod—at least since they last posted about their struggles on Tuesday. The pair both posted to Instagram, kind of lamenting their decision to take on the no-carb, no-sugar challenge.
Jennifer opened up about her struggles in an Instagram Story: "So it turns out, when you don't have sugar and you don't have carbs, you're really really hungry all the time," she said. "So we're trying to figure out a lot of good snacks."
A.Rod also shared his diet difficulties: "I'm on the second day of this 10-day challenge. It seemed like a great idea when I challenged all of you," he said in his own Instagram Story. "I have had eggs and avocado today. I'm dying," he added.
Six more days to go, guys!
Source: Read Full Article