My day on a plate: Jake Webb
Methyl Ethel musician, Jake Webb, 31, shares his day on a plate.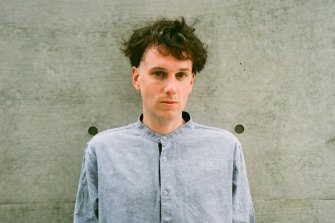 Jake Webb.Credit:Xan Thorrea
7.33am I'm spoon deep in two Multi-Grain Weet-Bix with Hi-Lo milk. It is delicious.
8.15am En route to my studio in Fremantle, I stop at an average cafe to buy an average strong flat white. I use my keep cup.
11.48am The caffeine buzz has faded and all I can think about is my homemade salad of couscous, avocado, spinach, mushroom, chilli tuna, Lebanese cucumber and cherry tomatoes. I also have a lady finger banana and water brought from home.
6.15pm My post-work reward of leftover salt and vinegar crisps and cold beer.
9pm Dinner is leftover salad, a piece of avocado on toast and a large glass of water. I drink the water too quickly and it makes me a little nauseous. Whoops!
Dr Joanna McMillan says …
Top marks for … Thinking ahead and taking your keep cup, lunch and bottle of water from home, thereby helping to reduce waste. And by making the salad yourself, you almost certainly ensure that it's healthier.
If you keep eating like this you'll … Have to work to get enough variety in your meals across the week or risk falling short on some nutrients. Using up leftovers is great but it does limit your array of foods. This day had no legumes or nuts (among the best foods for magnesium), only three different vegies and one type of fruit.
Why don't you try … Having the crisps as an occasional treat and eating a handful of nuts most days instead. Add a bowl of mixed berries to breakfast. Choose wholegrain couscous, as this has more fibre and nutrients than white couscous. Include canned beans or chickpeas in your salads two to three times a week.
Methyl Ethel perform at Melbourne Zoo Twilights on February 22 with proceeds going towards the critically endangered mountain pygmy possum and the Bushfire Emergency Wildlife Fund.
Source: Read Full Article