Nonpaying Patients; Metaverse Medicine; and UK Approves Booster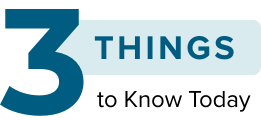 What Can You Do About Nonpaying Patients?
Collecting payments has been tough this year owing to multiple factors largely related to the pandemic.
According to physicians surveyed for the Medscape Physician Compensation Report 2022: Incomes Gain, Pay Gaps Remain, 43% of physicians continue to treat patients who don't pay, 12% send their bills to collections, 12% continue care and write off the balances, and 25% chose other actions. Eight percent of physicians drop patients if they don't pay.
Here are some things you can do about nonpaying patients:
Price transparency: Patients are more likely to pay their bills when they know how much something will cost.

Payment plans: Coming up with your own payment plan can help patients break big bills into smaller chunks.

Payment policy: A policy lets patients know what they can expect and prevents surprises in the event of nonpayment.

Metaverse Medicine and the Doctor, Patient Avatars Ahead
Virtual reality offers new opportunities for training and patient interactions for physicians.
Teaching resource: Headsets can allow residents to put on goggles and see digital representations of themselves in virtual operating rooms. They can manipulate the instruments with controllers and feel resistance, pressure, and see layers of skin, muscle, and bones.
Clinical trial help: Virtual assistance could alleviate some of the burden that patients who are in clinical trials face by issuing reminders on medications, reading questionnaires, and recording data.
Real-time data: In the future, experts predict data from wearable devices that monitor vitals can be sent to the metaverse and update doctors with real-time data.

UK Approves COVID Booster Vaccine That Targets Two Variants
Britain authorized a new Moderna-made vaccine that targets both the original virus and Omicron, becoming the first country to approve a bivalent vaccine, according to The New York Times .
Half and half: Half of each dose targets the original variant, half targets Omicron.
Good responses: Clinical trials show that the updated vaccine generated good immune responses against the original virus and Omicron, along with the BA.4 and BA.5 subvariants.
Coming to US next month: The United States secured 66 million doses of the new vaccine and the Biden administration is expected to begin a COVID-19 booster campaign with updated vaccines from Moderna and Pfizer next month.
Kaitlin Edwards is a staff medical editor based in New York City. You can follow her on Twitter @kaitmedwards. For more news, follow Medscape on Facebook, Twitter, Instagram, and YouTube.
Source: Read Full Article