Selma Blair Just Shared A Brilliant Makeup Tutorial For People With Multiple Sclerosis
Selma Blair shared a makeup tutorial on Instagram sharing how she applies her makeup with multiple sclerosis.
Her tutorial was a joke, per Selma, because her "fine motor skills aren't, like, fine at this moment."
Selma revealed her MS diagnosis on Instagram in October 2018.
Over the past few months, Selma Blair has given us little glimpses into her life with multiple sclerosis (MS). She shared the exact scooter she uses to get around and posted her brain scan online.
Now, Selma's injecting a little humor into her diagnosis: She just shared a makeup tutorial on Instagram.
Selma shared the tutorial on her Instagram Stories, along with a post on her Instagram page, explaining why she absolutely means for this to be taken as a joke. "My fine motor skills aren't, like, fine a this moment," she said in her Instagram Story. "So I just want to say I'm gonna probably give a makeup tutorial, never. But if I do, then you know I'm really just trying to have fun."
She went on to explain why she decided to talk about her makeup routine: "I notice, I put my makeup on in the morning, and all day, people are rubbing my face, and I'm saying, 'Whatcha doin?'" Apparently, people are constantly blending Selma's makeup in all day long—a result of her not rubbing it in enough in the mornings when she applies it. Even Selma's manager said she "better not do this," when it comes to applying makeup.
I couldn't make this get onto my ig story cause… I don't know. But here is my solution to applying makeup with a lack of fine motor skills. #laugh and feel free to reapply my makeup. #makeuptutorial #real
A post shared by Selma Blair (@selmablair) on
So then, Selma let her fans (and others with MS) in on her secret: Using a huge makeup brush with bronzer. "MS people: Brush. Big. Bronzer. There, done. Stop. Bye."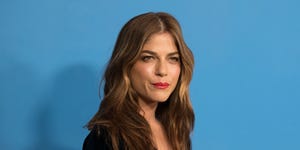 Compromised fine motor skills is one of the most common symptoms of MS. The disease of the central nervous system essentially inhibits communication between the brain and the body—and the most obvious symptoms of the disease are sensory and motor skills, Amit Sachdev, MD, associate medical director for the department of neurology and ophthalmology at Michigan State University, previously told Women's Health. "Common manifestations are an inability to dress, dropping items, difficulty controlling part of the body, and subsequent falls."
Selma's symptoms are on the more severe side, but her strength (and humor) in the face of adversity is something we can all aspire to and learn from. Also: Her bronzer tip is spot-on—everyone looks a little better with a little glow.
Source: Read Full Article