Um, I'm Drooling: This Pear Crisp Recipe Has A Secret Vegan Ingredient For An Extra Hit Of Flavor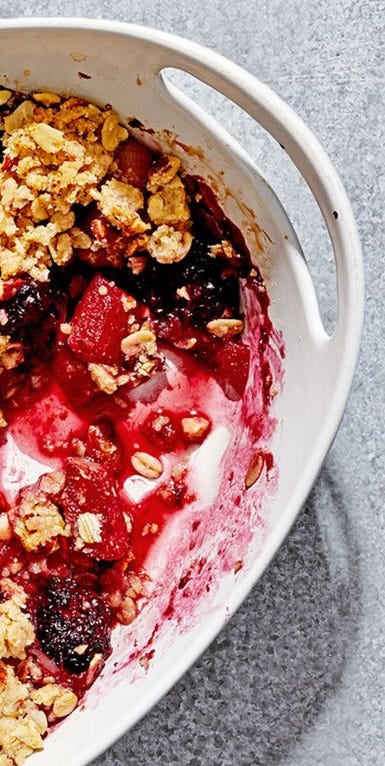 Name a sensation more satisfying than breaking through a crunchy topping with a spoon and gently diving into a soft, sweet filling—I'll wait.
This blackberry and pear crisp is the tart, zesty, and sweet dessert you'll want to eat all year long. There's something to be said for the flawless combination of sharp blackberry and milder, softer pear. You'll want to recreate this union in smoothies, jams, and ice cream.
Another secret to this delectable dish: It makes the oven work overtime. ICYMI, twice-baked means twice as delicious. The crisp's layers are baked two separate times—once for the fruits's juices to fuse and once more so the crumbly top layer can harden, brown, and start to seep into the fruity layer just-so.
And if the finished product wasn't delectable enough, one quiet team player, vegan butter takes the dish to new heights. One quick tip when choosing your butter: Dairy-free doesn't mean you're stuck with hydrogenated oils or unrecognizable ingredients. Opt for a brand like Earth Balance (a WH Test Kitchen pick).
Beyond tasting incredible, this fruity dessert is packed with fiber and antioxidants, thanks to blackberries. Pears offer a side of vitamin C, along with more fiber.
Your finished product will be a delicious vegan and dairy-free dish that's sure to delight.
all-purpose flour
ground cardamom
kosher salt
plus 2 Tbsp brown sugar
cold vegan butter, cut into pieces
rolled oats
roasted almonds, chopped
Bartlett pears (about 3), peeled and diced
blackberries (about 4 cups)
orange zest
fresh squeezed orange juice, from above
Per serving: 245 calories, 4 g protein, 36 g carbs, 6 g fiber, 19 g sugars (10 g added sugars), 10.5 g fat (5 g sat), 69 mg sodium.
This recipe originally appeared in the April 2019 issue of Women's Health. For more intel on how to live a happier, healthier life, pick up an issue on newsstands now.

Source: Read Full Article