Whole Foods Is Celebrating the Royal Baby in the Cheesiest Way — Literally
Royal baby fever is at an all-time high this month. With reports surfacing a few months ago that Meghan Markle and Prince Harry are expecting their first child sometime this spring, all eyes are the royal couple. And to celebrate the impending birth, Whole Foods has launched a limited-edition cheddar.
Yes, you read that right: They're celebrating the birth with cheese. And we're not mad at it.
Bustle reports that the exclusive cheddar is called "Royal Addition" and will be available in stores nationwide once the baby is born. The cheese — Westminster Royal Mark red cheddar — is made of the highest quality in Southwest England, according to Whole Foods' description. The cheese is also described as combining "a slight pleasant tanginess and a creamy texture, with flavor notes of burnt caramel and a slightly sweet and nutty finish, to create a world-class taste, worthy of royalty."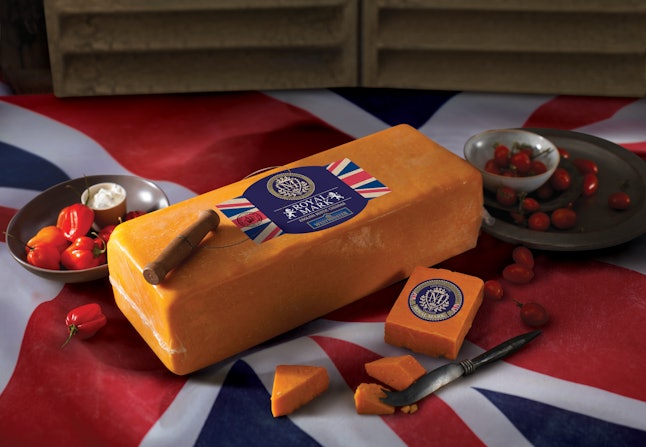 Why cheese and why specifically cheddar, you ask? Apparently, cheddar is one of the most popular cheeses in the U.K. and the U.S., Whole Foods continues to say. The grocer even went above and beyond tailoring the cheddar to embody both Prince Harry and Markle… but mostly Prince Harry.
"The Royal Mark cheese uses tropical fruit pulp annatto to give the cheese a unique, vibrant orange hue, to match Prince Harry's signature hair," Whole Foods states.
You can expect to spend anywhere from $9.99 to $12.99 for the Prince Harry-hued cheddar, and according to recent reports, this cheese could hit shelves any day now.
Daily Mail's royal correspondent Rebecca English very recently reported that Markle skipped Easter service with the rest of the royal family because she's "days away" from giving birth.
"The Queen celebrates her 93rd birthday today with an Easter Sunday service at St. George's Chapel, Windsor. We're hoping a number of royals including the Duke and Duchess of Cambridge and the Duke of Sussex will join her (although names aren't confirmed in advance," English reports, adding that she doesn't believe Markle will be at the service. "That's certainly not what was being said this week — she is days away from having her baby, after all."
Keep an eye on those shelves; we're getting close.
Source: Read Full Article